Menu
Menu
Like any of the items you ordered?
Thanks for visiting! We'd love to have your feedback.
Home Cooking
Spinato's Take & Bake and Take & Make items
Appetizers
Gluten free available for some dishes
Salads
Enjoy Spinato's housemade dressings: garlic ranch, greek, italian, caesar, bleu cheese, pomegranate vinaigrette, balsamic vinaigrette or extra virgin olive oil & balsamic vinegar.
Sandwiches
All sandwiches come with choice of chips or spring mix salad with balsamic vinaigrette.
VEGGIES +$0.50 mixed sweet bell pepper, jalapeño pepper, red onion, pickled red onion
CHI-CLASSICS +$1.00 sautéed mushroom, roasted red pepper, hot giardiniera
CHEESE +$1.5 mozzarella, aged provolone
Pastas
All pastas served with crostini
Pasta Additions:
Bolognese +$2.00, Basil pesto +$2.00, Italian sausage +$2.00, Meatball +$2.00, House grilled chicken +$5.00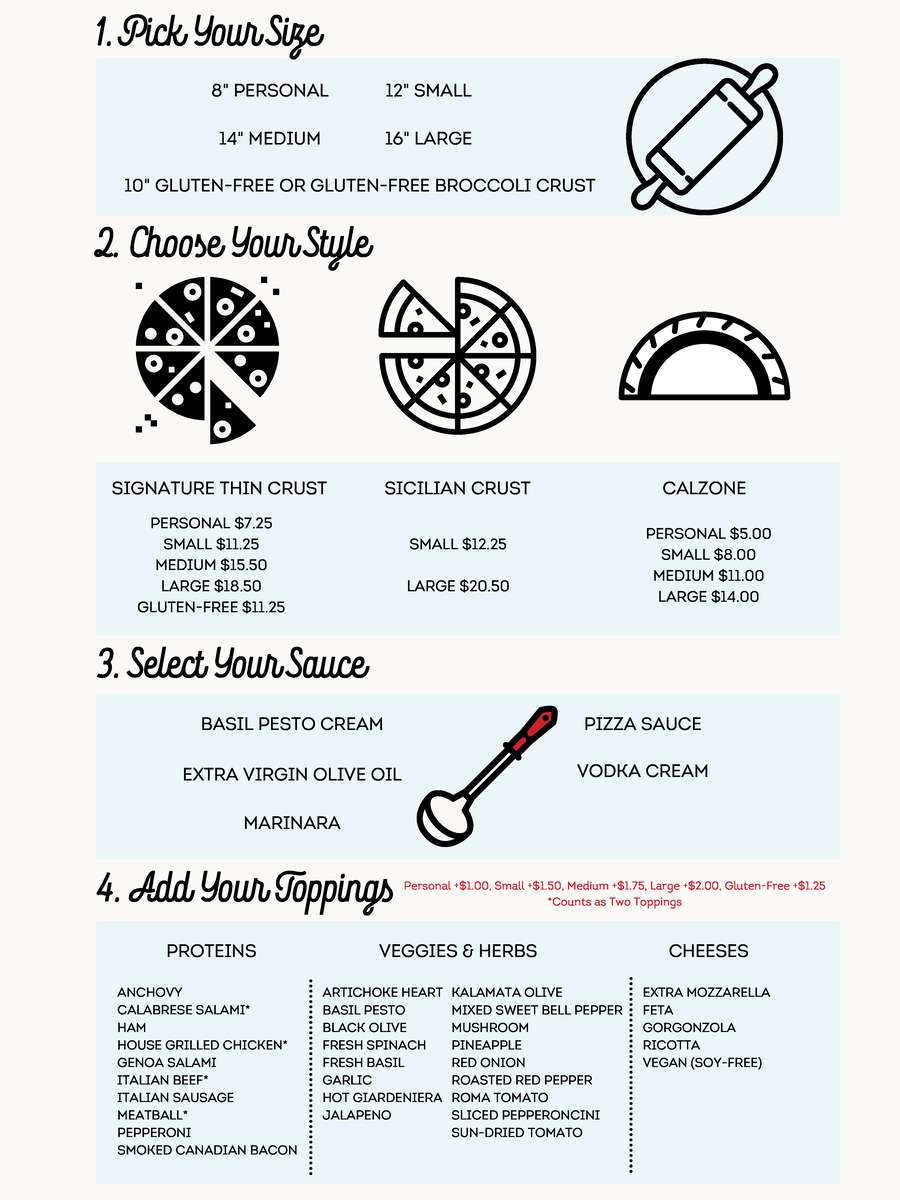 Pizza
Personal 10.85 / Small 16.95 / Medium 22.95 / Large 27.95 / Gluten-free 16.95
Personal 9.85 / Small 15.50 / Medium 20.95 / Large 25.95 / Gluten-free 15.50
Personal 8.80 / Small 13.95 / Medium 18.95 / Large 23.95 / Gluten-free 13.95
Calzones
Personal 7.25 / Small 11.50 / Medium 15.50 / Large 19.75
Kids Menu
Ages 10 & Under
All Kids meals a scoop of gelato (dine-in ONLY)*

*Please note: Gelato will be replaced with a Chocolate Chip Cookie for To-Go and Take-Out Orders
(GF) Gluten-free option available upon request 

(VG) Vegetarian

We request that guests with food allergies please speak to a manager on duty to ensure safety.

CONSUMING RAW OR UNDERCOOKED MEATS, POULTRY OR EGGS MAY INCREASE YOUR RISK OF FOODBORNE ILLNESS. PRICES SUBJECT TO CHANGE. REVISED 9/14/2020