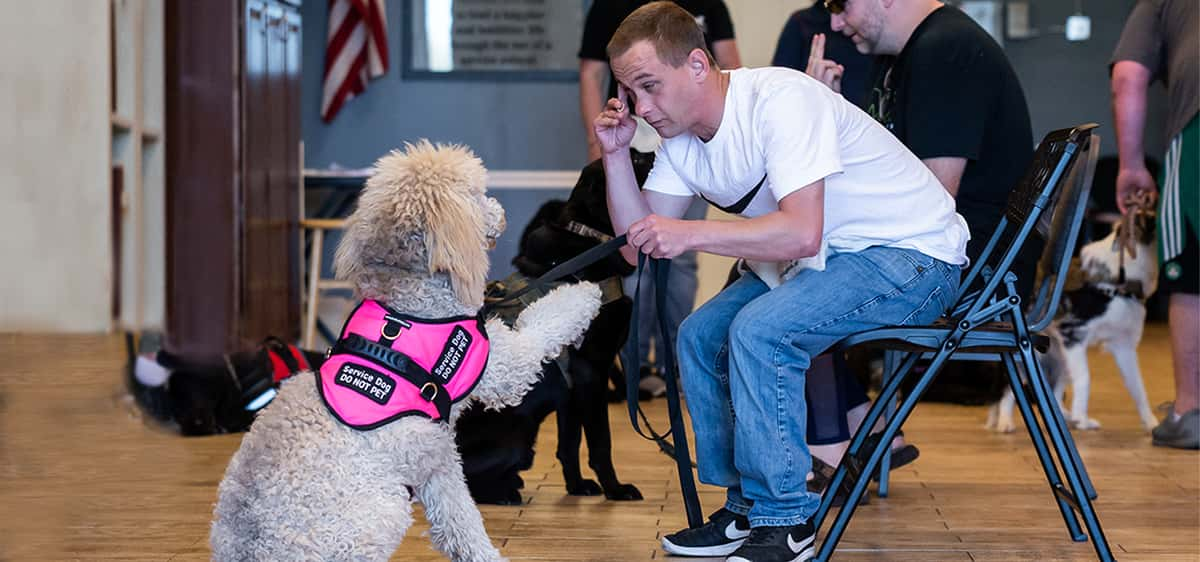 June is PTSD Awareness Month
June is PTSD Awareness Month
For those that are not aware, June is PTSD Awareness month. During this month we are highlighting an organization known as Dogs 4 Vets.
This may seem like a pretty heavy topic to post on our blog but we would love to tell you just why we thought this is important. First and foremost, Spinato's is not in the pizza business, they are in the people business. Our community and our guests are incredibly important to us, and without them we would not be here. You show up to support us, and we want to support you. Our three charitable pillars as an organization are children, veterans, and animals. PTSD has a place in everyone of these communities. What Dogs 4 Vets has been able to accomplish as a local Arizona organization deserves a spotlight and glowing recognition.

PTSD is a condition that affects people of all ages. No one is immune to trauma or how it affects the human brain. The experience of post-traumatic stress can vary depending on the trauma that the individual went through—even symptoms can vary between two people. In some cases, symptoms can appear nearly instantaneously. For others, it can take decades for symptoms to surface and be recognized. For many, there's a delayed onset of symptoms, when the brain is no longer as preoccupied or the person has the opportunity to absorb what has happened.
There is no definitive answer to why some people who experience trauma develop PTSD and others do not. A combination of elements may cause the disorder or make individuals more susceptible to post-traumatic stress, such as:
Exposure to trauma, the amount of trauma experienced, and the severity of those traumas
Familial histories of anxiety and depression
Emotional response (temperament)
How your brain regulates the hormones and chemicals your body releases in response to traumatic events and stress
Occupations like soldiers, nurses, doctors, EMTs, law enforcement, and firefighters can and will expose some people to more trauma than other jobs
Many people associate this disorder with military veterans. While PTSD is common in military populations, simply witnessing an event, like a car accident, can trigger PTSD symptoms. In these cases, painful, traumatic memories can appear out of nowhere, creating intense physical and emotional reactions. During World War I, this was referred to as "shell shock." When the horrors of war were too much for the brain to manage, the brain, or at least part of the brain, simply shut off. Children and teens often experience PTSD as a result of traumas that impact them, such as school shootings, domestic violence, auto accidents, neglect, or abuse. 15-43% of adolescents will experience a traumatic event, with about a quarter of those individuals experiencing symptoms of PTSD.
Now how does Dogs4Vets fit? There are thousands of Arizona veterans that are disabled in a variety of ways after returning from duty. These veterans need help adjusting back to normal life. The vision of the American Service Animal Society is to create a world where disabled veterans are able to lead a happier, healthier life through the use of a service animal. Their mission is to give the gifts of independence, trust and most of all companionship to men and women injured while serving their country.
The Dogs4Vets program involves training the veteran's own dog so they become a certified service dog. If they do not have a dog, they can help advocate the use of rescues. They sponsor disabled veterans that qualify with lifetime, no cost service dog training and certification. The veteran's program is tailor-made for their specific needs, remembering that just because you can't see an individual's disability, doesn't mean it is not there. These service dogs can be trained to help individuals suffering from PTSD, night terrors and sensory overload. Unlike some programs that teach the dog mundane tasks like leaning, their service dogs are trained to interact with the veteran and notice changes in body language, stress hormone chemicals and voice. They stress the use of positive training methods and their service dogs are trained to disrupt negative behavior or get help amongst numerous other skills. They offer real life training in situations like airplanes, public transportation, dining in restaurants, shopping in public, and attending cultural performances. These proven results are well documented in testimonials by our veterans and throughout the VA hospital doctors and clinicians.
Want to know more? Interested in training your dog? How about donating?
OTHER HELPFUL LINKS FOR PTSD

National Center for Post-Traumatic Stress Disorder
A part of the VA that works to advance the clinical care and social welfare of America's veterans through research, education, and training in the science, diagnosis, and treatment of PTSD and stress-related disorders. Its website is provided as an educational resource concerning PTSD and other enduring consequences of traumatic stress.
If you are suicidal, please call 800.273.TALK(8255). You'll be connected to a skilled, trained counselor at a crisis center in your area. Counselors are available 24 hours a day, seven days a week.
A nondenominational, not-for-profit volunteer organization dedicated to reducing the incidence of suicide by befriending individuals in crisis and educating the community about effective prevention strategies. Call or text the 24/7 free and confidential helpline at 877.870.4673.
This program provides readjustment counseling, outreach, and referral services to veterans and their families in a relaxed, community-based setting. Vet Centers also provide counseling for military sexual trauma and bereavement counseling to parents, siblings, and spouses of service members who die in service. Many staff members are combat veterans themselves. Almost all combat veterans are eligible for Vet Center services.
RAINN (Rape, Abuse & Incest National Network)
The nation's largest anti-sexual violence organization, RAINN started and currently runs the National Sexual Assault Hotline (800.656.HOPE) in partnership with over 1,100 local rape crisis centers across the country and operates the DoD Safe Helpline for the Department of Defense. RAINN also carries out programs to prevent sexual violence, help victims, and ensure that rapists are brought to justice.
International Society for Traumatic Stress Studies
Dedicated to sharing information about the effects of trauma and the discovery and dissemination of knowledge about policy, program, and service initiatives that seek to reduce traumatic stressors and their immediate and long-term consequences. Providing access to education and research, meetings and events, as well as tools for treating trauma and public resources.
The National Child Traumatic Stress Network (NCTSN)
NCTSN brings a singular and comprehensive focus to childhood trauma. A collaboration of front line providers, researchers, and families committed to raising the standard of care while increasing access to services.