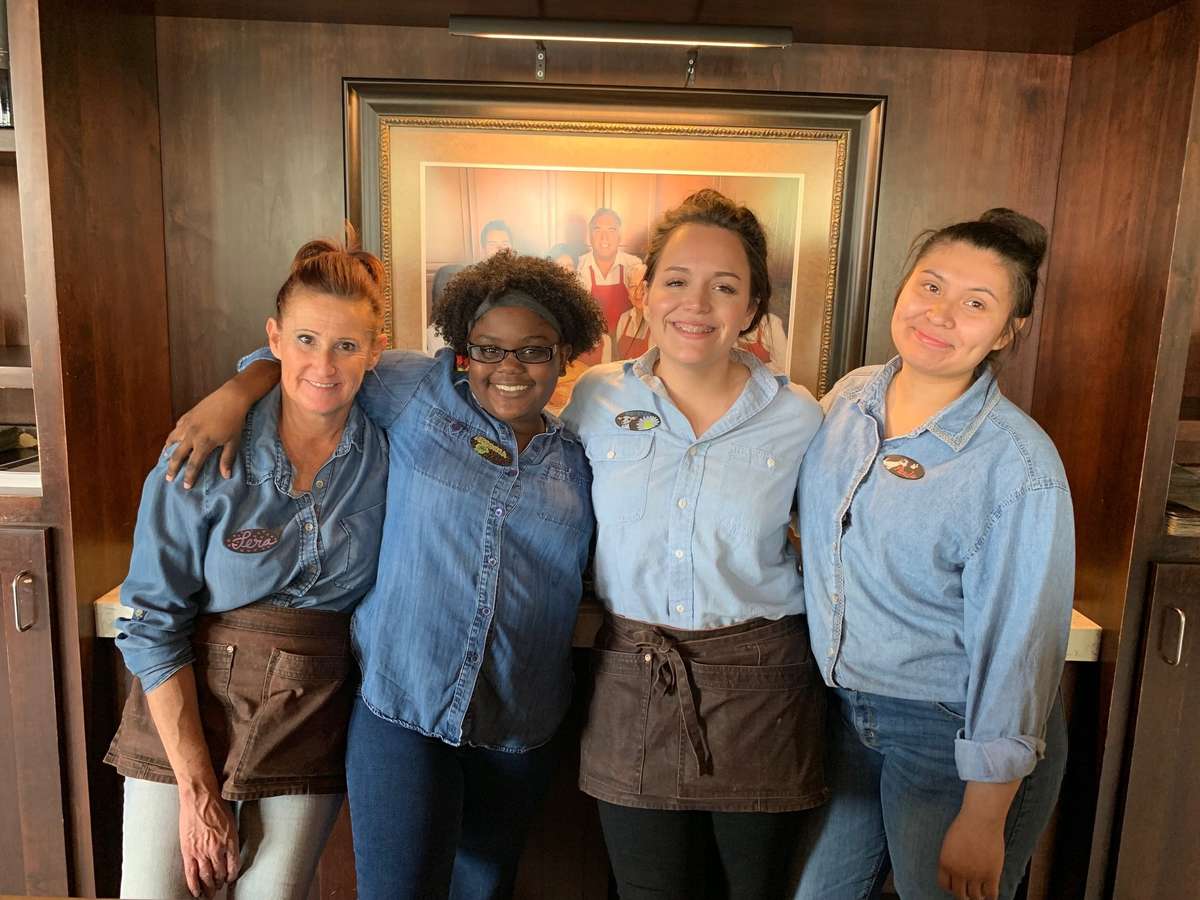 National Food Server Recognition Week
National Food Server Recognition Week
The Spinato family has always said, "We are not in the pizza business, we are in the people business"!
The fact is, this is the honest truth of how we at Spinato's feel about success. It is all because of our staff and because of you! From the days when little Anthony and Nicole were just old enough to sling some pizza dough and bus tables, Ken Spinato never let them forget who to thank for the shoes on their feet and the clothes on their backs, the guests. The reason that Spinato's has been a staple in Arizona as a go to pizza and Italian restaurant is because of our incredibly supportive and loyal guests. For whom we can never thank enough for their support, but instead promise that we will continue to do everything we can to make every experience with Spinato's the best we can, to make you feel like family.
The key to the Spinato's experience? Our staff. They are the backbone of the entire company. We have some of the best people working with us, and we consider ourselves incredibly lucky for all they have brought to the table in extending the Spinato's experience to our guests. The Spinato's experience means going the extra mile and covering the small details that make people feel at home when dining with us. Whether that is holding the door open when you come in, or being a warm and friendly face when you need one, and sometimes it's going the extra mile to make sure you have a memorable experience. Our staff is our lifeline to our community, and we are honored and lucky to have some of the best staff a family could ask for.
Over the next week we want to show off some of our incredible rockstars in what we call the Heart of the House. That means the kitchen team, but we think that context matters at Spinato's so we call our kitchen team the heart of the house because that is exactly what they are. These employees are our lifeline, our blood, and they are what makes the whole thing work. It is often with most restaurants that the heart of the house rarely gets the visibility, the recognition, the praise from the guests that the front of house gets. That being said, this is why we would like to dedicate this week to them. Thank you to all of our hard working team for everything you do both big and small to make Spinato's the amazing place it is today. Join us over the next week as we highlight a few of our hardest working individuals at each of our store locations.
We still can never pass over our front of the house staff, the people that create the personal touches to every visit at Spinato's. The servers, bartenders, cashiers, hosts and managers that go out of the way to make you feel like family. We are calling on all of our guests over the next week to shout out some of your favorite staff that have gone above and beyond for you. As you can tell, context matters, which is why we always say guests and never say customers. We find it to be so impersonal, I mean we just let you into our home, you are all family now!! If one of our front of house staff has gone out of their way time and time again to make your day, shout them out on our social and tag us in @spinatospizza. We will be prizing out the employees that get shout outs throughout the week, and letting them know that all of their efforts they put in to making the Spinato's experience does not go unnoticed.
We are incredibly proud to also announce that for the second year in a row, we have won Top Workplace. For those who do not know, this award comes from our internal staff recommending us as a company, and we couldn't be more honored that they feel this way. That is why while we bring up this honor, we want to highlight them and all they do. We were also humbled to be given the Diversity, Equity and Inclusion badge for 2022 which means the world to our team. This means that we consistently strive to create a workplace that is safe, comfortable and accepting for everyone. We are all just people, navigating through this crazy world and trying to make more people happy, we think it is better just to be kind and accepting of eachother and go above and beyond to make another person's day. We could all use that!
We would love to share our core values with you. We spent a lot of time discovering and refining what means the most to us as a company and as a family, and we do our best to hold strong to these ideals in everything that we do.
Family:
What does that mean? We are responsible to and for one another!
Commitment to Excellence:
Each of us, to be the best we can be, must continually strive to keep up with changes and advances and then apply them to practice in order to achieve our desired outcomes.
Community:
We graciously give our hearts, hands, time, and energy to serve and support each other and our community.
Diversity:
By listening and celebrating our differences, we strive to build an inclusive culture where employees can be transparent about their true selves and stretch beyond what is comfortable to create space where everyone can thrive as individuals.
We truly hope that every single experience with us is one that is memorable and cherished. We strive to make sure that we are the best that we can be for you, our guests and for our staff. That being said, we sure do hope to see you soon. Welcome home!