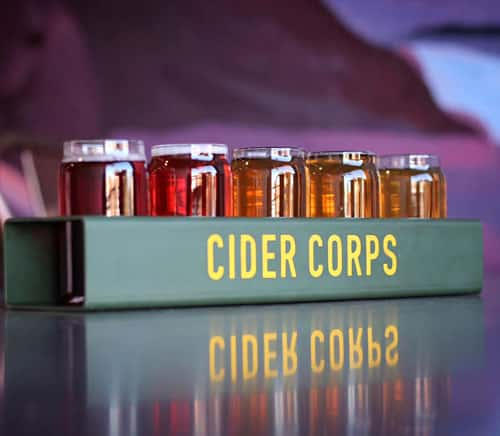 Cider Corp Partners With Spinato's to Support Hometown Heroes!
Cider Corp Partners With Spinato's to Support Hometown Heroes!
Updated for 2023
Spinato's will be donating a portion of proceeds for every Sangin Sangria cider sold from November 11 through December– Proceeds to benefit Hometown Heroes and the military families and other children in need
Spinato's x Cider Corp
Spinato's Pizzeria is teaming up with Cider Corps to raise much-needed funds for AZTV's Hometown Heroes Toy Drive, a unique fundraising event that benefits military and first responder families and other children in need.
The innovative promotion kicks off at all Spinato's restaurants on Veterans Day, Nov. 11, and runs through January 6, 2023. For every Sangin Sangria cider drink sold, Spinato's will donate a portion of proceeds to AZTV's Hometown Heroes Toy Drive. The sweet, fruity cider complements Spinato's diverse selection of pizzas, pasta dishes and salads, and it will be available for lunch or dinner for $8 per glass or $30 per pitcher.
CIder Corp & Spinato's in the Community
This is the first year that Spinato's Pizzeria has joined AZTV Channel 7 as a sponsor of their popular Hometown Heroes Toy Drive. This year's event is co-presented by AZTV, Desert Financial Credit Union and the Valley of the Sun United Way, with many other businesses showing support for Arizona military and first responder families and other children in need. Toy donations collected will be distributed throughout the holiday season to help create lasting memories in a time they're needed the most.
We're excited to partner with AZTV and veteran-owned Cider Corp on this special fundraising event. For many families, it can be hard to think about celebrating the holidays, especially when they're struggling to make ends meet. We encourage all our guests to order a Sangin Sangria cider with their meal. It's rich in flavor, refreshingly sweet, it's a local business, and it will help bring joy to children during the holiday season.It only makes sense to partner with Cider Corps for this program, we are both local family-owned and veteran-owned businesses.
About Cider Corps
Cider Corps is a veteran-owned and family-operated craft cider company built by brothers Josh and Jason Duren (USMC Sgt, Ret.). What started as a therapeutic hobby is now Arizona's largest cidery dedicated to its mission to honor the sacrifice of veterans and their families both locally and nationally. It accomplishes this by shining a light on veteran issues, bringing the community together to serve those in need, and inspiring veterans with new purpose and success post-military service. Cider Corps has taprooms in Mesa and Gilbert.
Cider Corps Special Blends
Sangin Sangria is the embodiment of the Cider Corps mission to "Drink Great Cider. Honor Great Sacrifice." It takes the first part of its name from the town of Sangin, known as the deadliest area of Afghanistan. It is where more soldiers have sacrificed their lives than anywhere else in the country, and it is also where Cider Corps co-founder Jason Duren was injured in service. Jason sustained two traumatic brain injuries from IED blasts, and it was those injuries that eventually led him and his brother Josh to start making cider as a therapeutic hobby.
The second part of the cider's name may be more familiar. Making cider is on par with making wine – they are both all about fermenting fruits for delicious results. Sangin Sangria is inspired by the flavor profile of red wine sangria. Cider Corps blends fruits, berries and citrus to its cider base for a fruit-forward drink that is semi-sweet with no added sugars. At 6.8 ABV, it is easily sippable and pairs well with almost any dish.
For more details, visit www.SpinatosPizzeria.com or follow them at @SpinatosPizza. To learn more about Cider Corps, visit www.CiderCorpsAZ.com or follow them @CiderCorps.