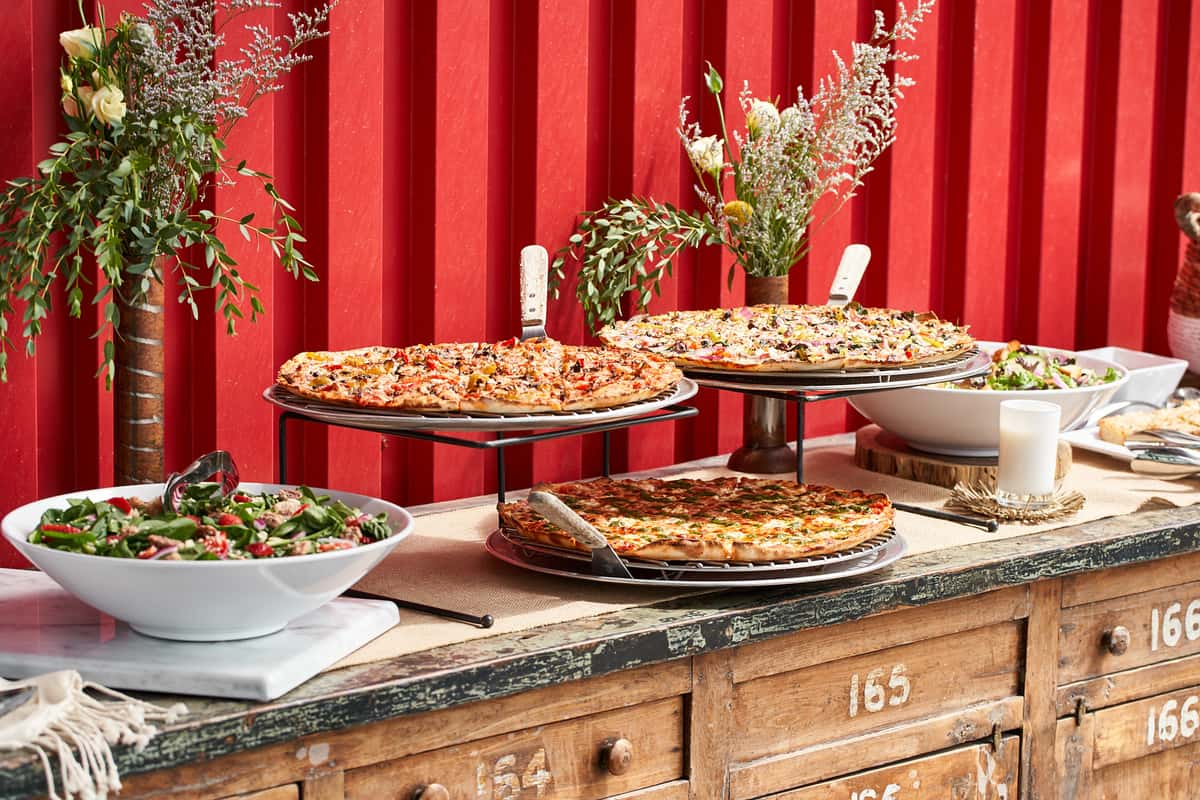 Introducing Spinato's Pizzeria NEW Catering Services!
Introducing Spinato's Pizzeria NEW Catering Services!
If you have an event on the horizon, don't know where to begin feeding people, or are short on time, you can relax. Spinato's Pizzeria now offers catering services.
Sharing our rich Italian family recipes for nearly 50 years, Spinato's offers delicious pizzas, pasta, salads, and desserts customized for any occasion. Let us provide the food for your wedding reception, birthday party, reunion, or corporate event in the Phoenix Metropolitan area.
Perfect for Birthday Parties, Weddings or Corporate Events
Let's face it, everyone in the Phoenix area knows about Spinatos. Now we're offering catering services to special events across the valley.
Whether turning 5 or 95, you can have Spinato's catered for your birthday party! Everyone loves pizza, so why not give them the best Phoenix offers?
For corporate events, hard-working employees deserve to be treated. Fortunately, Spinato's is now offering corporate catering services as well!
Your special day should be remembered. Customers love our pizza so much that they've made special requests for their wedding days.
You and your guests can have an eventful night with Spinato's at your wedding.
Fresh Out of the Kitchen to Your Event
Everything, including desserts, is made in-house at Spinato's Pizzeria. We handcraft traditional and unique pizzas and pasta that your guests will love using the freshest ingredients. Our mission is to help the community build lasting memories with exceptional food from our family kitchen, where everything, including sauce and dough, is made from scratch.
With six locations to serve you, we are convenient to your venue. When we do the cooking, your guests can enjoy a meal they will never forget.
Pizza Customizations
Everyone loves pizza, and if you've never considered it for a catered event, now's the time. Pizza catering is one of the best ways to elevate events with delicious flavors, and we have something to satisfy all the attendants.
Create your own pizza with a large selection of toppings and sauces, or choose one of our signature creations, such as:
- The Chicago Pizza: Italian sausage, mixed bell peppers, red onions, mozzarella, and our signature sauce, topped with oregano
- Mamma's Signature Pizza: fresh spinach, tomatoes, fresh garlic, our secret spice blend, mozzarella, and our signature sauce
- Chicken Presto Pesto Pizza: grilled chicken, sun-dried tomatoes, red onions, artichoke hearts, mozzarella, and basil pesto sauce
- Da' Greek Pizza: fresh spinach, our secret spice blend, red onions, tomatoes, kalamata olives, sliced pepperoncini, feta, mozzarella, a choice of pizza sauce or extra virgin olive oil, topped with oregano
- Spicy Italian Pizza: meatballs, pepperoni, red onions, mozzarella, and our signature sauce
- The Over-A-Cheeser Pizza: mozzarella, pecorino romano, ricotta, basil pesto, and our signature sauce
We offer Chicken Parmigiana, Chicken Alfredo, Penne Alla Vodka, and Four Cheese Ravioli on the pasta side. Create your own pasta dish with a choice of spaghetti, penne, or fettuccine pasta, house grilled chicken, and your choice of sauce and additions.
Plus many more delicious pizzas. Vegetarian and gluten-free modifications are available.
Pizza Salads and More!
Our signature salads include Antipasto, Caesar, Greek, and Strawberry Gorgonzola. Our Dinner Salad features an organic spring mix, cucumbers, watermelon radish, heirloom tomatoes, and homemade garlic croutons with your choice of dressing.
We also offer tantalizing appetizers such as Garlic Bread or Cheesy Bread with our house-made marinara; Big Boss Wings or Boneless Wings in mild, medium, hot, sweet chili, or golden BBQ flavors; Meatballs smothered in your choice of marinara or vodka cream sauce; Cremini Mushrooms stuffed with a trio of Italian cheeses, fresh herbs, and garlic; and our Roasted Artichoke Dip served with toasted baguette slices.
For dessert, choose from Nicole's Notable Chocolate Chip Cookies, Mini Brownies, or Mini Cannolis filled with ricotta cream and chocolate chips and topped with chocolate shavings and citrus zest.
Trust Spinato's Pizza For All Your Catering Needs
Whether you're expecting a large crowd or have something more intimate in mind, Spinato's pizza catering is an excellent choice. We can tailor our options to groups of any size, age, or dietary preference. Just let us know who you will be feeding and when.
Contact us today to get started on your menu and leave the cooking to us.