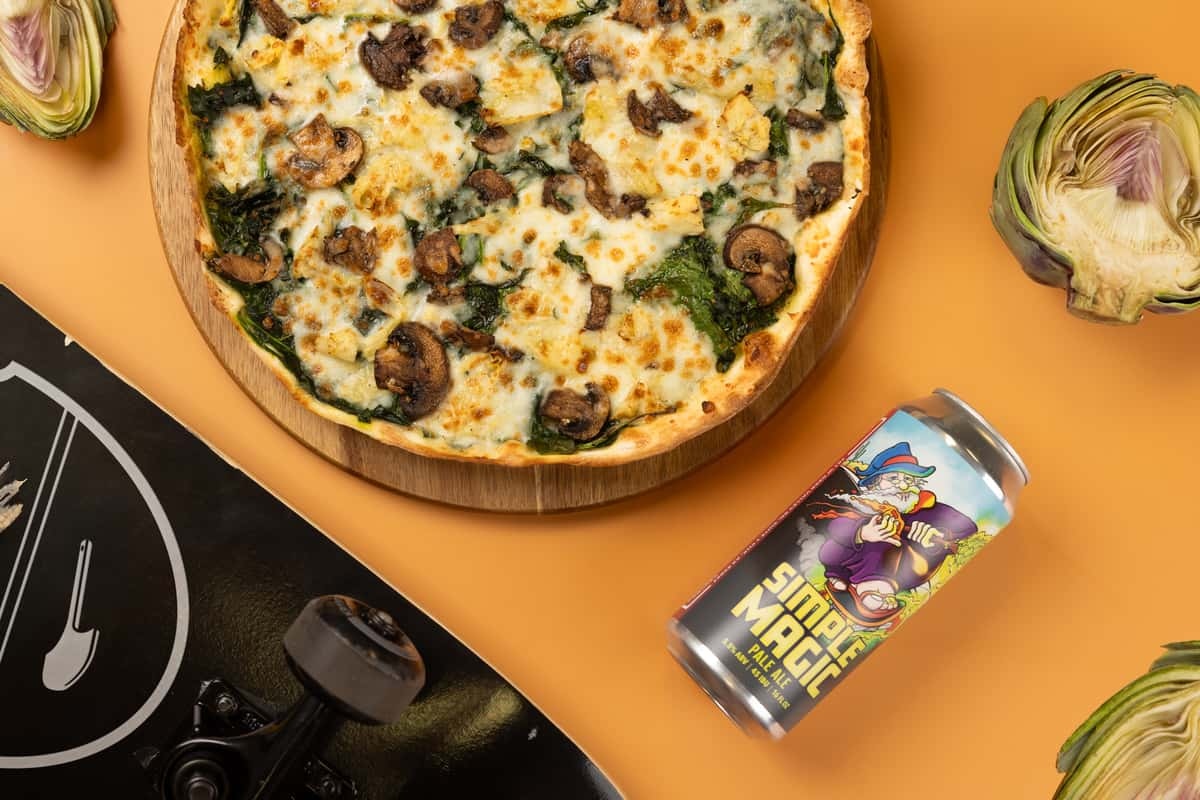 The Wizard of Za is back!
The Wizard of Za is back! Round 2
Fan favorite local Arizona influencer, The Wizard of Za who is known for his love of AZ pizza and beer, is back at Spinato's for another magical pairing! The Wizard himself picked this years featured za; an artichoke dip pizza with pesto cream, spinach, secret spice, mushrooms, artichoke dip and mozzarella! The Wizard went even further and came to join Anthony Spinato in the kitchen to help fine tune and hand craft this recipe. Anthony was adamant, that this za be something we have never done before, and you couldn't just build yourself.
Last year we partnered with lcoal brewery, The Beer research Institute. This year we are happy to announce our collaboration with Simple Machine Brewing Co in Deer Valley, AZ. Simple Machine Brewing Company officially opened for business in November of 2019 and hosted their grand opening in January of 2020. From the very beginning the major focus was to produce high quality craft beer, build and be part of the local business community, and give back to the community as often as possible. In the last three and a half years of operation, Simple Machine has done dozens of charity collabs, ample projects with other small businesses, and exceeded all of their production goals. Looking forward, Simple plans to continue investing time and energy in building community and producing top-tier craft beverages. They have been kicking out some excellent beers, and love doing collabs so this was a perfect fit! Marshall and Nicole, the brewers came and joined us to learn how to make pizzas. We made 6 renditions and finally settled on the one. It was a full day of eating pizza, woe is us!
It was exciting to have Simple Machine in on the pizza making process because they picked their style and hops based off of the ingredients we settled on. Next we had to brew the beer, right? So we took a trip up to Simple Machine's brew house and spent a day brewing the beer and learning all about the process. All of us got to do a little work, and a couple of beers snuck in there. What came of it is a gorgeous pale ale, Simple Magic. An American Style Pale Ale brewed specifically to be brite, floral, and earthy, with unique inspiration from white wine. Designed from scratch in collaboration with The Wizard of Za and Spinato's, this light bodied, crisp ale will pair perfectly with anything from succulent to sweet and will be a nice cut through the richness of the artichoke dip pizza. This pale will weigh in at 5.5% abv, with 45 IBU's and a series of specialty picked hops: Galaxy and Cascade for bittering and Citra and Cashmere for flavor and aroma.
We decided to do it a bit different this year, we are bringing it to Spinato's in cans! That meant we needed some good artt, and Simple Machine has some of the best can art in the valley. Introduction to Aaron, the mastermind designer behind Simple Machine's can labels. Aaron worked with the team to come up with a killer label, we are all pretty stoked about it. In fact we loved it so much that we put it on glassware, stickers and shirts!
We were lucky enough to have a few guests join us along the process, Eric & Nick from Taste of AZ. These two a big on the local food and beer scene, having done a whole series of podcasts with the local beer talent over the last few years with Tap That AZ. They joined us throughout this magical journey, and we spent a day doing a podcast with them as well. The podcast will launch on September 1st, and you can catch that on @tastofaz or @spinatospizza
Come join us to kick this collaboration off at the Central Phoenix Spinato's location on September 1st from 4-6pm where everyone involved in this collaboration will be hanging out, meeting people and enjoying the fruits of our labor. We will be giving away glassware, t-shirts, gift certificates and more. Plus Fox10 will be joining our team to talk about this collaboration, so you can get your face on tv. This collaborative pairing will be available from September throughout October, get it while its hot! If you miss it, you will have to wait a whole year for our next one.
Check out the fun!