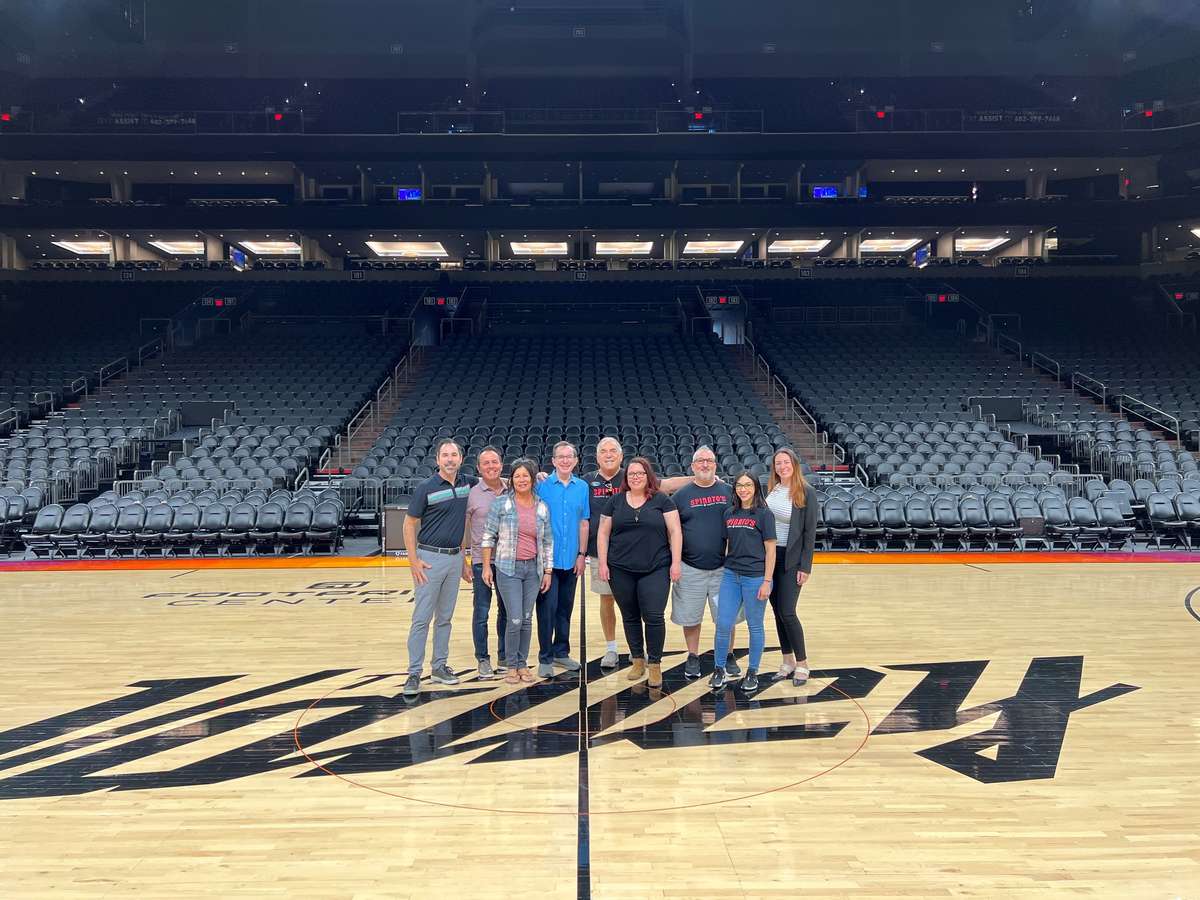 Spinato's Partners with The Phoenix Suns
Spinato's Partners with The Phoenix Suns

Updated for 2023
Spinato's Brings its Delicious Pizza to Footprint Center this Fall Through Partnership With the Phoenix Suns and Phoenix Mercury
Spinato's Pizzeria & Family Kitchen has been serving the Valley for more than four decades and is on track to open a 7th location in November
TEMPE, Ariz. (August 4, 2022) – When Phoenix Suns and Phoenix Mercury fans return to Footprint Center this October to cheer on their favorite basketball teams, they'll find another hometown favorite at the concession stands – Spinato's pizza.
Official Pizza of the Phoenix Suns at the Footprint Center
The new partnership between Spinato's Pizzeria & Family Kitchen and the Suns and Mercury recognizes Spinato's as the basketball franchise's "Official Pizza." In return, the popular pizzeria will promote Suns and Mercury games to its patrons at all six locations Valley wide. Ken Spinato, owner of Spinato's, said his family and staff are honored and humbled to be in such good company at the arena.
"When we committed to this partnership, we wanted to ensure that we could bring our restaurant quality to the stands. Our family kitchen makes many of our ingredients from scratch and then hand delivers them daily to all our locations," Spinato said. "We will be rolling out our fresh dough before every single event. We promised ourselves that we would not commit to this partnership unless we could meet the teams at half court."
What makes Spinato's pizza so special?
Ken and Elaine Spinato opened their first pizzeria in Scottsdale after moving from Chicago to Phoenix in 1964. Today, their son, Anthony, and daughter, Nicole, help manage six locations Valley wide. The restaurant has been so successful, a seventh location is slated to open in Gilbert in November.
Spinato's is best known for serving classic Chicago-style pizza with a signature sweet sauce, but over the years, family members and trusted staff have experimented with recipes in the restaurant's scratch kitchen.
"People are drawn to our pizza because of its unique, authentic Italian flavors and delicious, crispy crust," Spinato said. "While our family recipes are key to our success, much of the credit goes to our team for their hard work behind the scenes, both in our family kitchen and at each restaurant. All our pizza dough is made daily from scratch, and we only use the freshest ingredients."
The family-friendly restaurant also offers a diverse menu, with everything from Chicago-style pizza and sandwiches, robust pastas and spaghetti-stuffed calzones to gluten-free and vegan options, fresh signature salads and Spinato's famous home-made Italian desserts.
The Ambience & Feel of Spinato's Family Kitchen
"We believe that the best restaurants make their locations feel like home, and we call that 'the Spinato's experience.' From the moment you walk in, we want you to feel like part of a big family. We want to enhance our guests' special occasions and let them enjoy every moment, whether you dine in at the restaurant or enjoy our pizza at the arena," he said.
Anthony Spinato said it's hard to contain his excitement about bringing Spinato's pizza to Footprint Center. "We've been big fans for decades, and we're looking forward to celebrating with our patrons and fans for another stellar season," he said.
Spinato's is also excited to partner with some local Arizona favorites like State Forty Eight, who designed our collaboration staff tees. And at the start of season we will announce our collaboration Suns Pizza at our locations which we will be pairing with Four Peaks Brewing Company's Suns Bru, The Official Beer Of The Phoenix Suns.
Visit a Spinato's Pizzeria Near You Today
In the meantime, there's still plenty of great incentives to dine at Spinato's restaurants now. Starting this month, guests can enjoy a "Cork & Board" special every Tuesday night featuring a small one-topping pizza and a bottle of house wine for $25. Spinato's Pizzeria's popular "Wine Wednesdays" also continues weekly at all locations offering half off all bottles all night and at some locations live music.
To learn more about the restaurant's weekly specials, limited time offerings and new craft cocktails, visit Spinatos Events or follow them at @SpinatosPizza.
For a season schedule of games or to learn more about this year's team rosters, visit The Phoenix Suns or The Phoenix Mercury.